Liberty - Stylized 3D Female Basemesh - Game ready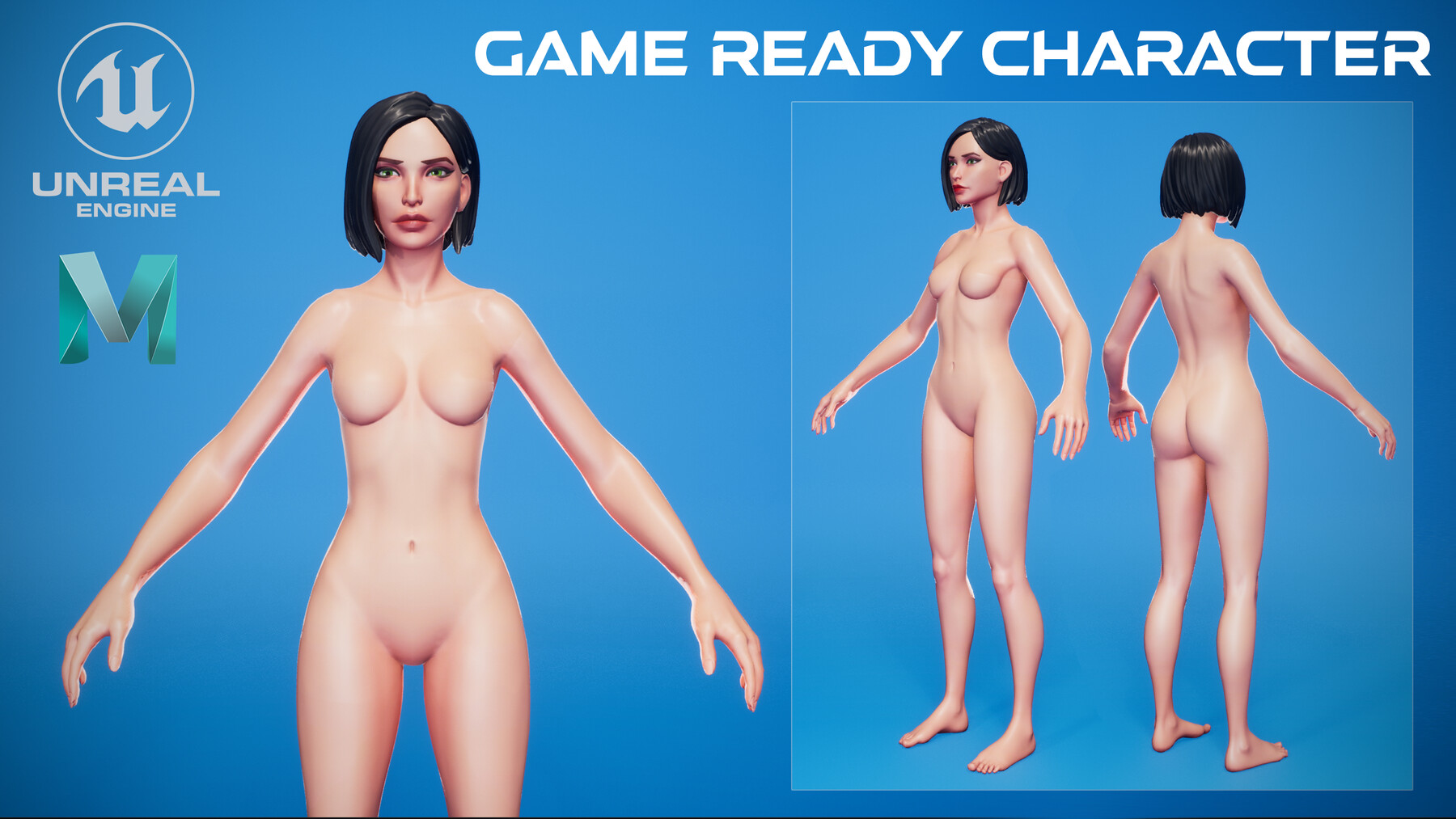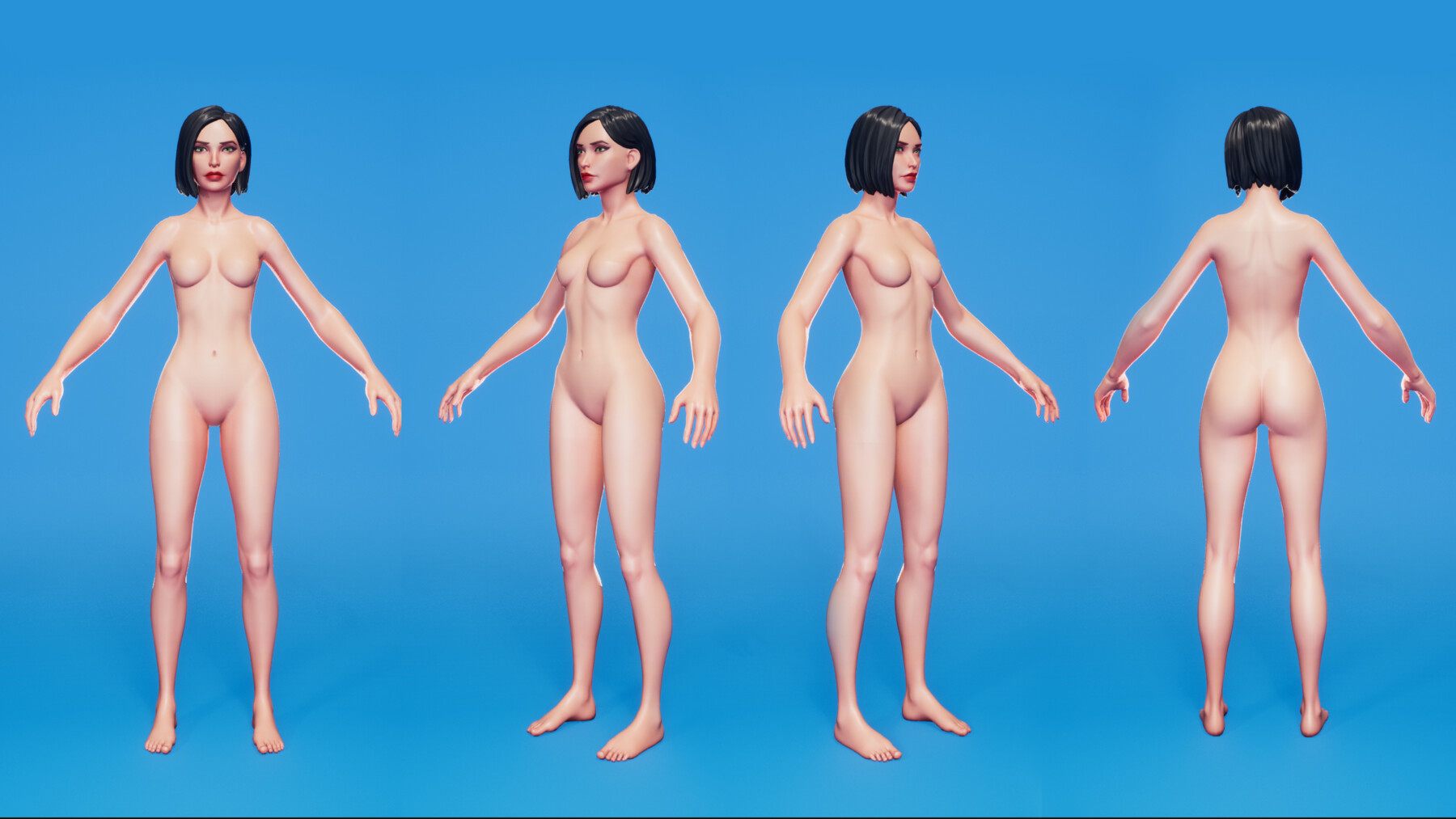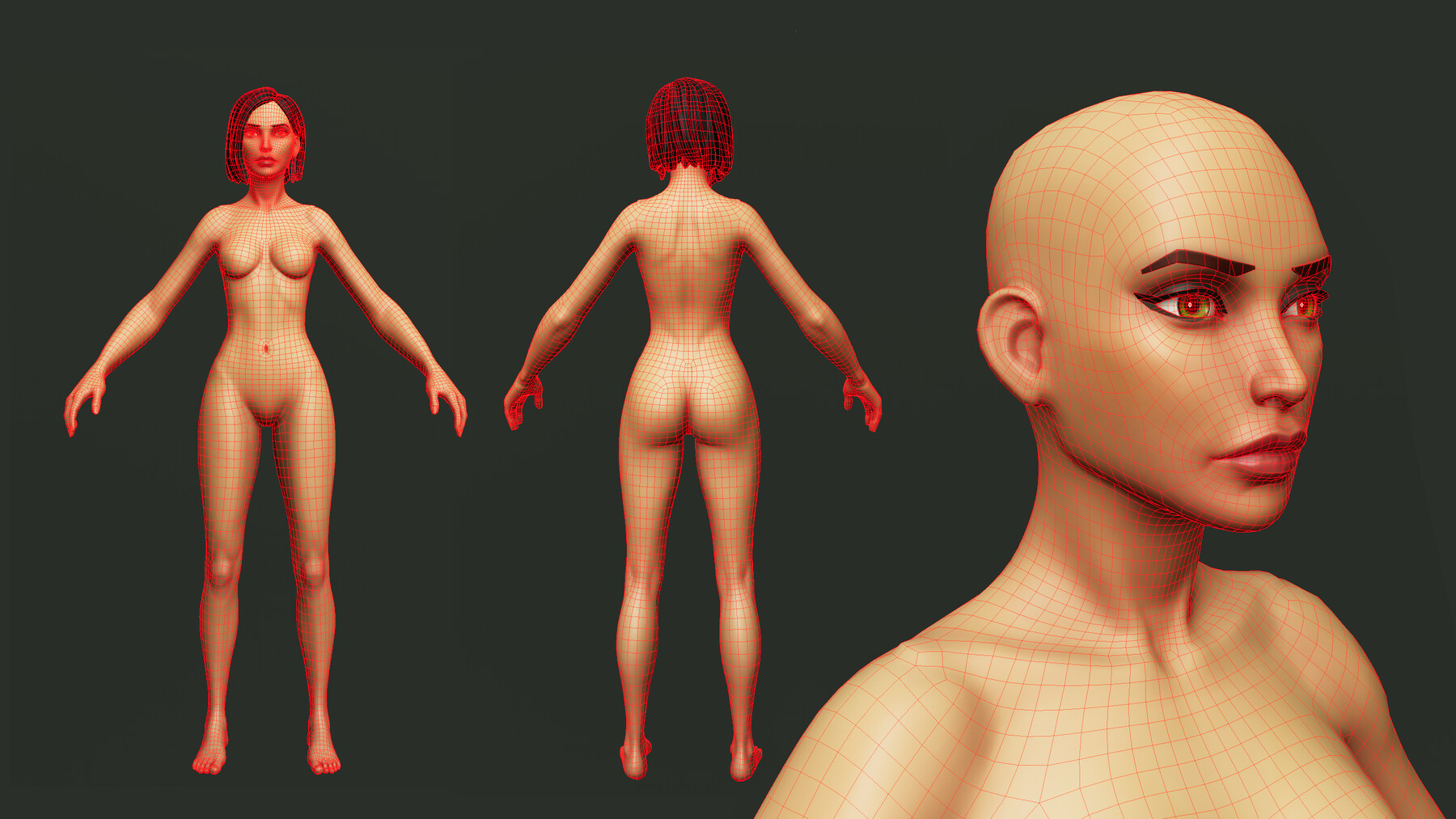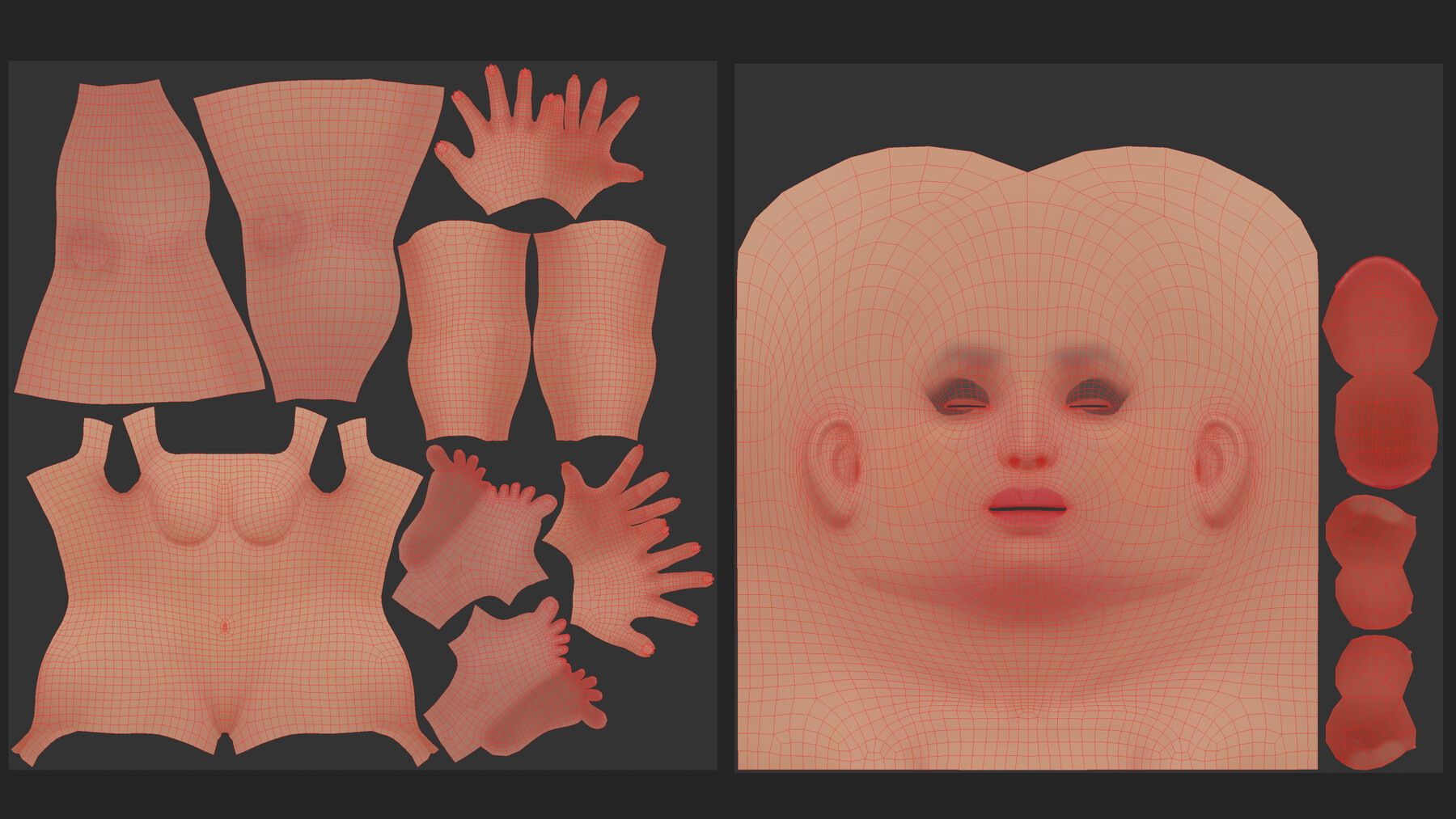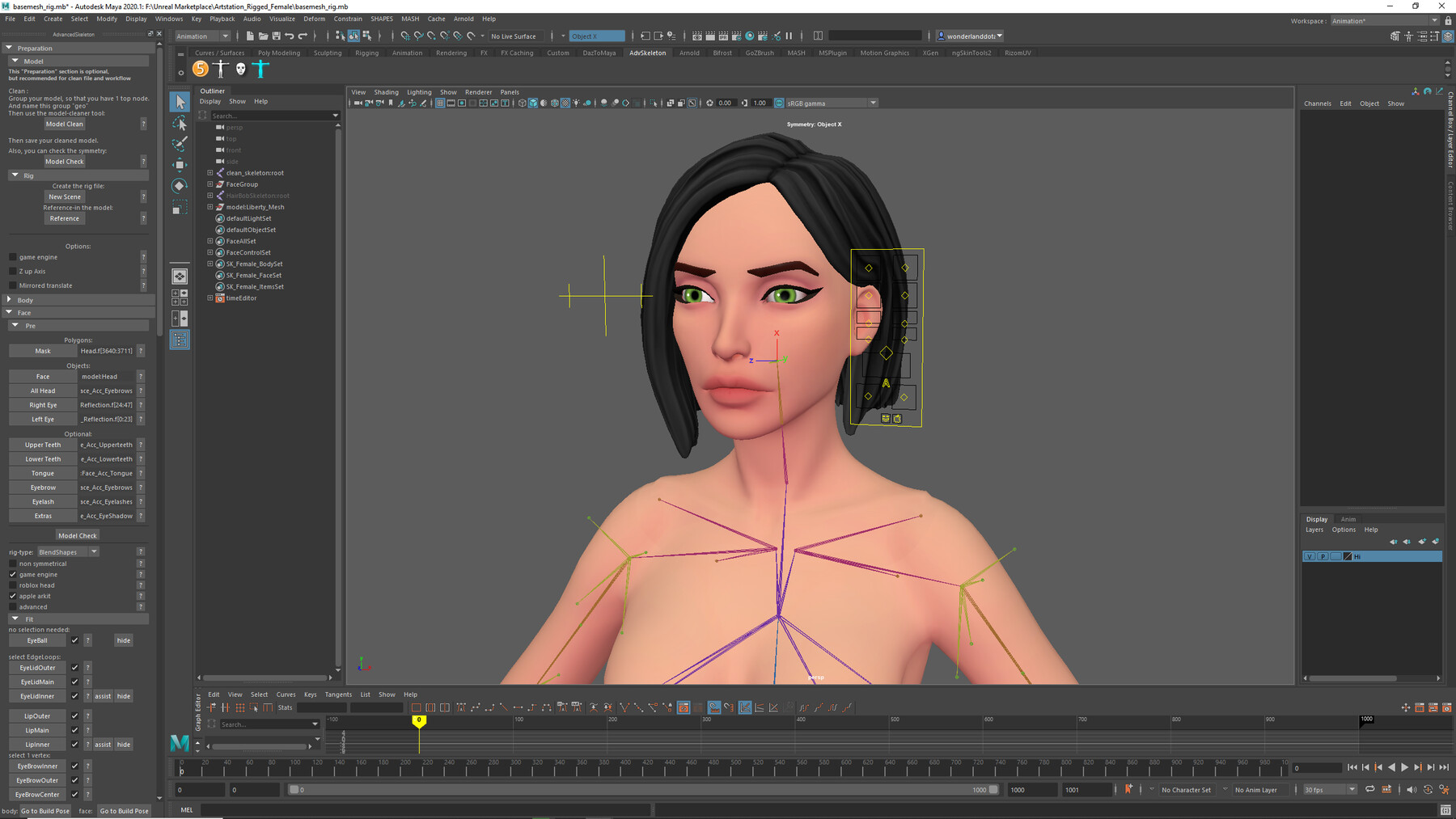 What this model has to offer:
- Clean topology;
- Perfect match to UE5 Quinn skeleton standard proportions;;
- Rigged to said skeleton (including deformation correction bones)
- Basic facial rig using Advanced Skeleton (blendshapes) with ARKit support in Maya;
- Basic mouth internals, eyelashes a brows included;
- Set of baked maps and stylized textures, calibrated to work with UE5 and Lyra Game sample from the box;
- High poly model (doesn't have correct UV layout, rigged low poly does);
- Hair included as a bonus, with its own bones;

Beware! This model has no actual body rig, only face rig. Meaning, bones are weighted properly to the default UE5 skeleton, however Maya file has no controls to aid you in producing body animations.

What you get:
Textures:
- 4k resolution, 16 bit .png baked mesh maps;
- 4k resolution,16 bit .png Unreal Engine texture maps (Albedo, Normal Map, OcclusionRoughnessMetallic packed in RBG channels);
- Makeup mask for lipstick and eyeliner (R and B channels), makeup is removed from texture maps;

Models:
- Model_Combined_UV_Bake.FBX - combined model for baking which includes everything. I use it for texture painting as well.Sorted by materials.
- Face_Accessories_HP_Bake.FBX - bake model for face accessories
- Body_HP_Bake.obj - Body HP for baking
- Hair_Bob_HP - HP file for the hair
- Body.ztl - ZBrush tool with all high poly models included. ZBrush version is 2021.6.2

- Model_Body_Rigged.FBX - rigged body with default Quinn skeleton from UE5 with no additional bones. Face not included
- Model_Face_Rigged.FBX - rigged face with blendshapes included and eye bones on top of the regular hierarchy.
- Model_Hair_Rigged.FBX - rigged hair with copied hierarchy from main skeleton and everything besides spine bones removed, plus hair rig bones.

- basemesh_rig.mb - file with the rig( Maya 2021.1)

You can check out practical use of this model here:
https://www.artstation.com/artwork/r9K82E

Don't hesitate to ask questions, give feedback, suggestions or seek help in case you need it.
 
I highly encourage you to use this model as is with no changes to the weight painting in your Unreal Marketplace projects, just make sure to add enough custom content on top. Make sure to contact me to discuss details. 
Release Notes
- Added missing makeup masks
- Added optional specular map for the skin shader